Crank Shaft, Crank Case & Connecting Rod
Crank Shaft, Crank Case & Connecting Rod
Crank shaft


Product Description:

We are an acclaimed name engaged in offering our precious clients a superior quality range of Metal Crankshafts. Rigid in design, these crankshafts reciprocating compressor translates reciprocating linear piston motion into rotation. Crankshafts offered by us are manufactured from the premium quality raw material that we procured from the reliable vendors of the market and the latest technology. Also, we provide these crankshafts in different specifications and at reasonable rates. 

Features:

> Easy to install
> Anti corrosive
> Durability
Aeroflon can supply Crank shaft as per OE specifications as replacement options for the following compressors:
> Atlas Copco

> Chicago Pneumatics

> Ingersoll Rand

> Kirloskar Pneumatic

> KG Khosla

> WABCO

> Others
---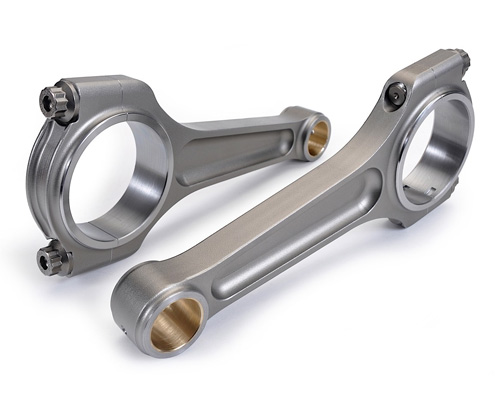 Connecting rod
The load on the piston due to combustion of fuel in the combustion chamber is transmitted to crankshaft through the connecting rod. One end of connecting rod known as small end and is connected to the piston through gudgeon pin while the other end known as big end and is connected to crankshaft through crank pin.
Generally, plain carbon steel is used as material to manufacture connecting rod but where low weight is most important factor, aluminium alloys are most suitable. Nickel alloy steel is also used for heavy duty engine's connecting rod.
The connecting rod's big end is generally split to enable its clamping around the crankshaft. Suitable diameter holes are provided to accommodate connecting rod bolts for clamping. The big end of connecting rod is clamped with crankshaft with the help of connecting rod bolt, nut and split pin or cotter pin.
For Small Tank mounted Compressor is made from Gun Metal or Forged Steel or Bronze. For smoother reaming &longer life, the smaller capacity compressors are fitted with ball bearings 10 connecting rod. Unbreakable transparent sheet is provided as side cover in the crank case which enable the clear function of the ball bearings fitted in connecting rod &oil splash lubrication visible. This is an added attraction.
Product Description:


Connecting Rod options offered can be offered by us in different base material choices like cast iron, aluminum alloy and others in different grades so as to provide for best performance support in given end applications. These rods come in options of single-cylinder and multi-cylinder choices with cylinder. Some of its features include high working power range of 3hp to 1000 hp, smooth construction finish, available in malleable spheroid-graphite iron casting option, can be developed as per OEM demands of customers.
Aeroflon can supply inner head/outer head as per OE specifications as replacement options for the following compressors:

> Atlas Copco
> Chicago Pneumatics
> Ingersoll Rand
> Kirloskar Pneumatic
> KG Khosla
> WABCO
> Others
Best at Aeroflon
Enquire NOW!
We are sure that this decision will affect your business in a great way. So why waiting?